Vered Benchetrit
Alumna, Individualized Studies '17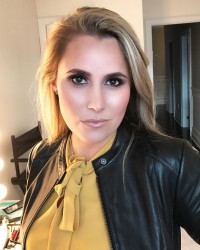 "My favourite part about the Individualized Studies program was bringing together all of my favourite subjects and writing a thesis that interested me. I enjoyed the flexibility of learning what I was most passionate about and the opportunity to write about the company I co-founded in 2012 - Jewish Creative Kidz. During my studies I took courses in kinesiology with a particular focus on children and movement, business, psychology and Jewish studies.
The education I've received at York has helped me achieve my goals because the Individualized Studies program allowed me to explore subjects that were most relevant to me in my entrepreneurial path. Being able to write a thesis about my company allowed me to see the great contribution I am making in my community which has tremendously evolved in creative programming since the launch of our company.
My advice to new students would be to choose a path that you are most passionate about! For me the Individualized Studies program was the perfect program in putting together a degree designed specifically for me. Think outside the box and don't be afraid to choose a program that speaks to you but is different than what your peers may choose.  I am glad that York University has established a program that provides students with a unique experience to their education."